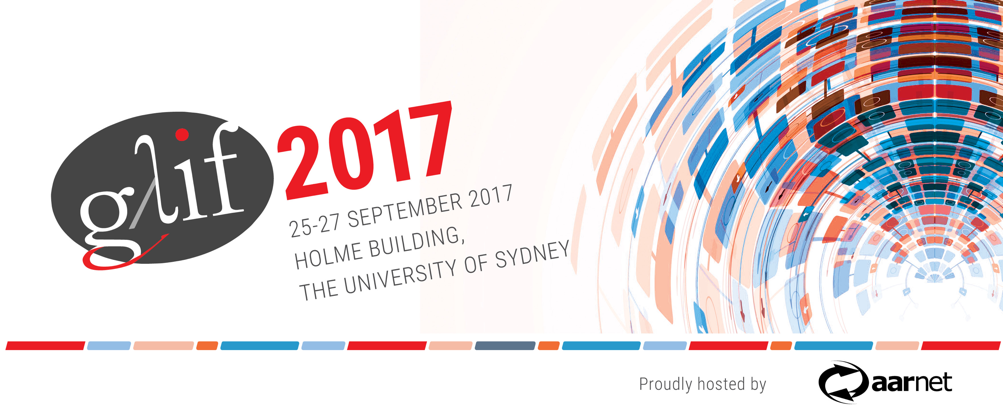 Provisional and subject to change
Monday, 25 September 2017
08:30-17:30
Registration - Drawing Room, Holme Building
Tuesday, 26 September 2017
08:30-21:00
Registration - Drawing Room, Holme Building
Plenary Session - Chair: David Wilde, AARNet
09:00 - 09:15
Welcome to GLIF 2017 - David Wilde, AARNet
09:15 - 10:00
Enabling the Square Kilometre Array: the Data Challenge - Shaun Amy, CSIRO
10:00 - 10:45
Wayfinding - Connecting Our Pacific Islands - Garret Yoshimi, University of Hawaii & Rommel Hidalgo, University of Guam
10:45 - 11:15
Break
11:15 - 11:45
Extending the Metropolitan Data Caching Infrastructure (MeDiCI) across the Pacific: an experiment in global systems - David Abramson, University of Queensland
11:45 - 12:15
The Global Research Platform: A Software Defined Distributed Environment for Data Intensive Science - Joe Mambretti, Northwestern University
12:15 - 12:45
Energy efficient dynamic optical path networking - Tomohiro Kudoh, AIST/University of Tokyo
12:45 - 13:15
Lunch
Technical Session - Chairs: Lars Fischer, NORDUnet & David Wilde, AARNet
13:45 - 14:00
Welcome & Introduction to GLIF Techs
14:00 - 15:15
Transforming Networking: Discussion on current challenges for R&E networks and directions for the next 3-5 years
15:15 - 15:45
Break
15:45 - 16:45
Transforming Networking: Discussion on current challenges for R&E networks and directions for the next 3-5 years (cont..)
16:45 - 17:45
Future GLIF Tech activities
19:00 - 21:00
Demonstrations & Reception
Drawing Room, Holme Building
Wednesday, 27 September 2017
08:30-17:30
Registration - Drawing Room, Holme Building
Technical Session - Chairs: Lars Fischer, NORDUnet & David Wilde, AARNet
09:00 - 10:00
GOLE Updates
10:00 - 10:15
AutoGOLE Update
10:15 - 10:30
Performance Measurement Updates
10:30- 11:00
Break
Plenary Session - Chair: Kevin Meynell, Internet Society
11:00 - 11:30
Trans-oceanic performance engineering and monitoring: reverse engineering other people's networks, policies or assumptions about your traffic - JP Velders, University of Amsterdam
11:30 - 12:00
AmLight's SDN Looking Glass: Centralizing SDN monitoring for troubleshooting - Jeronimo Bezerra, Florida International University
12:00 - 12:30
Whatever happened to that NSI stuff? - Jerry Sobieski, NORDUnet
12:30- 13:30
Lunch
13:30 - 14:00
Building across the Pacific: A new international network for REANNZ and New Zealand - Jamie Curtis, REANNZ
14:00 - 14:30
100G Lambda networking in CERNET and IPv4/IPv6 traffic engineering - Xing Li, CERNET
14:30 - 15:00
Opening up Optical Networking: TIP and merchant optics - Guy Roberts, GEANT Association
15:00 - 15:30
Break
15:30 - 17:00
Panel session: Services, Performance Engineering and Monitoring across Oceans - Moderator: Rodney Wilson, Ciena; Xing Li, CERNET; Joe Mambretti, Northwestern University; JP Velders, University of Amsterdam; Garret Yoshimi, University of Hawaii; et. al.
17:00 - 17:15
Closing address & GLIF 2018 - David Wilde, AARNet
18:30 - 10:30
Sydney Harbour Dinner Cruise
Bus transport provided from Parramatta Road outside of the Holme Building to No. 9 King Street Wharf, Corner of King & Line Streets. Otherwise please arrive by 18:15
Registration
The registration fee is AUD 450 per person (AUD 350 for registered students) up to 23 August 2017, and AUD 500 per person (AUD 400 for registered students) thereafter. You may register and pay online.
Most nationalities require visas to enter the Australia, although in many cases they can be applied for and issued online. Please see the Australian Government Department of Immigration and Border Protection website for more information.
If you require an invitation letter, please contact the address for request for Visa invitation should be addressed to the workshop organisers.
Accommodation
Accommodation in the Rydges Camperdown, Mercure Sydney Central, and the Waldorf Sydney Central Service Apartments can no longer be reserved when registering. Please check directly with the hotels for availability.
Venue
All GLIF meetings will be held in the Holme Building on the Camperdown Campus of the University of Sydney, Parramatta Road, Sydney, NSW 2050, Australia.
The SDN Workshop will be held in Room G3 at the University of New South Wales School of Electrical Engineering & Telecommunications (UNSW EET), 330 Anzac Parade, Sydney, NSW 2033, Australia.